They say harps are like potato chips – you can't have just one! Some are rented to students but these are the ones that Carol keeps for her own use. Visit the music page to hear them in action.
Bruce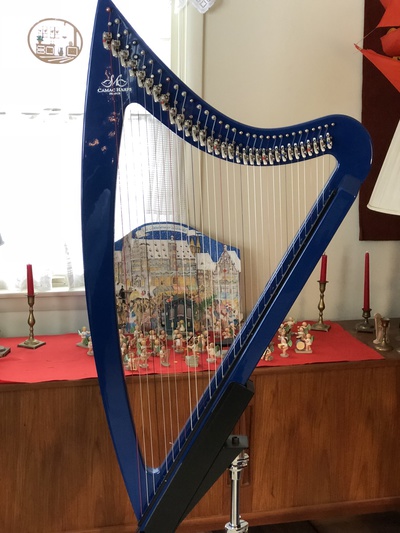 Bruce is a DHC32 electric harp, the harp developed by Deborah Henson-Conant and Camac Harps. He only works with amplification but when plugged in to my Bose amp, his sound is big, warm and rich. Playing Bruce is like flying a jet plane! Exciting. Bruce was featured in an article about him in the winter 2017 edition of Folk Harp Journal.
Hear bruce playing Calanais below:
Blackie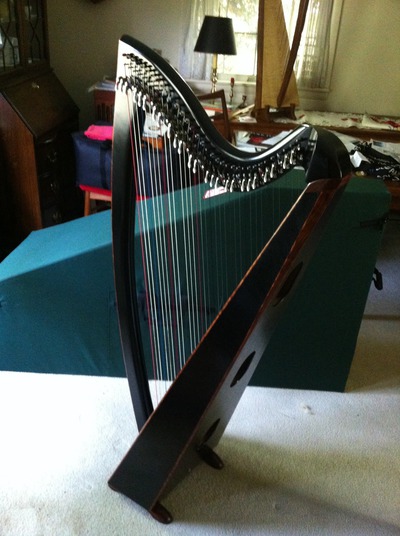 Blackie is my new, high-tech, Thormhlen Ceili. This harp has florucarbon strings, which are light, sparkly and lovely to play. It weighs only 17 pounds so it is wonderful to take out to events. It also has the snazzy new Camac levers, which I love. The black shiny finish and the silver levers and wound strings give this harp a really sharp appearance. It's sound and appearance are fabulous.
Bòidheach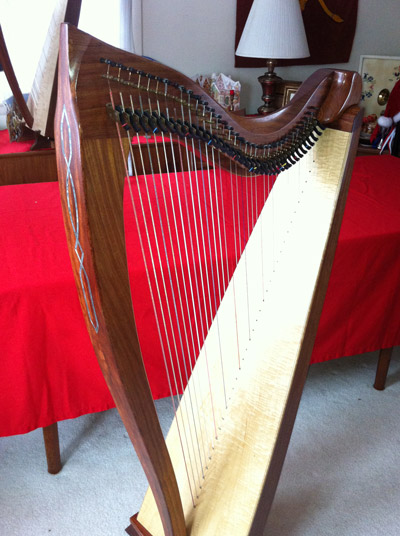 Bòidheach is a 36 string Dusty FH36S harp made by Dusty Strings in Seattle, Washington. Made of bobinga, he has a wonderful, warm resonant sound and soft, gentle strings that are easy on the hands. Everyone loves this harp, including Kim Robertson, who has borrowed him to play in concerts. This is the harp I use for performing. This harp has magic in it!
Baby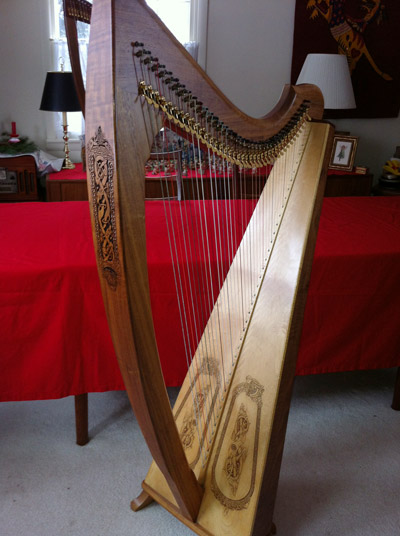 Baby is a 38 string Triplett Eclipse harp, made in San Luis Obispo, California. He is made of walnut and has lovely Truitt levers and beautiful Celtic designs laser cut in the sound board and on the pillar. Baby is the harp I like to take out to sessions since he has a booming bass and a strong voice that hold its own with all those fiddles, concertinas, pipes and bodhrans! Also, Baby has a wheelie case that makes it easier to get his 40 pounds into the pub!
Butch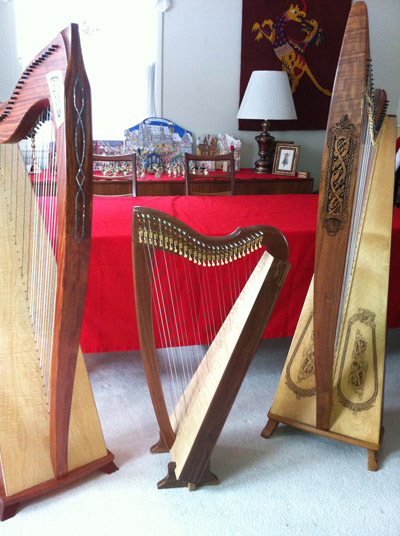 Butch is a Nightingale therapy harp, built by my friend Jeff Lewis of Lewis Creek Harps. Butch is small enough to travel – only 27 strings – but has a large, sparkly voice. Jeff claims Butch is small enough to carry on a plane, but I have yet to see that for myself. I keep Butch tuned in E flat so I can improv in C minor but he has full Truitt levers so I can play him in sharp keys as well. Playing Butch is like driving a little sports car – so light and fun. He's a darling.